General recommendations

Authors should be aware that their paper can be published in the journal in at least 10 months after the submission date.

Authors can obtain hard copies of the journal at the editorial office of the Journal (one or two copies per two or three authors). We do not send hard copies by post.

Authors can find the contents of the Journal issues on the page Archive of this website and on the website www.maik.ru; contents of the Journal issues as well as abstracts, and keywords can be found on the website www.maikonline.com, and tables of contents, abstracts, keywords, and references are freely available on the website http://elibrary.ru.
Names assigned to files submitted to the Journal must contain 8--12 Latin characters and numbers, and present information about the name of the author and content of the file, e.g., ivanov_text_s_ris.doc, ivanov_text_bez_ris.doc, ivanov_ris.doc, ris_01.jpg, etc.
Requirements for files of illustrations

1. All illustrations in the submitted manuscript should be placed at the end of the body of text together with their relevant figure captions. If an illustration consists of several parts, they should be arranged one after another and have a common caption. Within the file, illustrations should not be placed in table cells or grouped in any other similar way. The original files of illustrations must be submitted along with the manuscript.

2. Every illustration file should be assigned a name making it clear which manuscript they belong to and in what order they should be arranged inside the text. Each file should contain one illustration. If an illustration consists of several parts, they should be grouped in the same file providing correct arrangement of their parts.

3. Vector illustrations should be submitted in a standard file format of the graphics editor used to prepare these illustrations. EPS format is also acceptable.

4. All other illustrations are acceptable in any standard graphics formats, although TIFF is preferable.

5. If the Editorial Board is for some reason unable to receive and transfer high-quality illustration files to the publishers, you can submit them directly to the publisher at ced@maik.ru by e-mail either as an attachment or as a link to a file hosting service. Indicate the journal title, issue number, the name of the lead author, and the reason why these files are being submitted separately. Illustrations cannot be used without this information.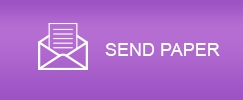 The journal is published monthly in Russian and English languages (as Thermal Engineering).
Russian version of the journal is published and translated into English by the International Academic Publishing Company MAIK Nauka/Interperiodica.
The Russian version of the journal "Teploenergetika" ISSN 0040-3636
The English version of the journal Thermal Engineering
ISSN PRINT: 0040-6015;
ISSN ONLINE: 1555-6301
Chief Editor: Alexander Klimenko
CiteScore 2018 - 0.79
SJR 2018 - 0.435
SNIP 2018 - 1.225
H-index Scopus 2018 - 15
CiteScore 2017 - 0.55
SJR 2017 - 0.339
SNIP 2017 - 1.029
H-index Scopus 2017 - 14
CiteScore 2016 - 0.4
SJR 2016 - 0.328
SNIP 2016 - 0.913
H-index Scopus 2016 - 12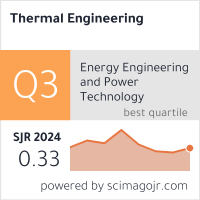 RISC Impact factor 2017 – 1.763
Science Index 2017 – 3.764
RISC Impact factor 2016 – 1.474
Hirsch index 2016 – 11
Herfindahl index 2016 – 572
Science Index 2016 – 1.787
RISC Impact factor 2015 – 1.081
Hirsch index 2015 – 10
Herfindahl index 2015 – 580
Science Index 2015 – 1.362
Thermal Engineering is abstracted and/or indexed in:
Astrophysics Data Systems (ADS), SCOPUS, EI-compendex, INSPEC, CEABA-VtB, Google Scholar, PASCAL, Academic OneFile, Summon by Serial Solutions, Gale, OCLC, INIS Atomindex, SCImago
The journal Thermal Engineering has been recognized as one of the best eight Russian journals in RISC specialized in power engineering published on the Web of Science platform as a database of the Russian Science Citation Index.
Partners